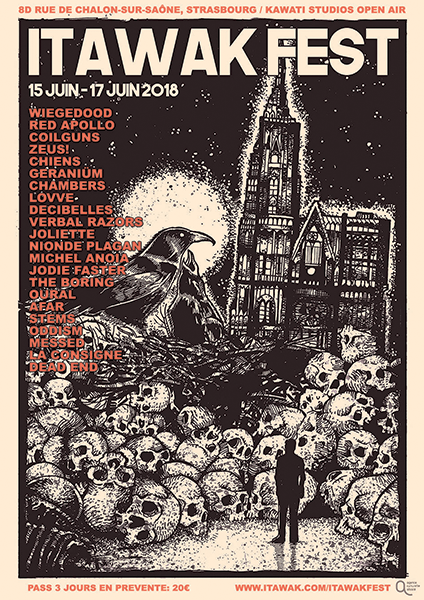 [VERSION FRANÇAISE]
Les joyeux lurons d'Itawak Records sont extrêmement fiers d'annoncer la première édition du Itawak Fest qui se déroulera du vendredi 15 au dimanche 17 juin, aux Studios Kawati.
On a mis les petits plats dans les grands pour s'assurer que ça va rocker ferme, ça va rocker jusqu'à plus faim. Et le bar s'occupera de la soif.
Le tout sur deux scènes. En accompagnement, vous serez ravis de trouver de la gastronomie végétarienne, des distros, du merch, un minigolf, et le tout dans une ambiance DIY que l'on espère des plus conviviales.
Des préventes à prix réduits sont d'ores et déjà disponibles : 3 jours, 20€
Pour plus d'infos, rendez-vous sur le lien suivant : www.itawak.com/itawakfest
Pour le reste, tout dépend de toi!
---
[ENGLISH VERSION]
The lads from Itawak Records are very proud to announce the first edition of the soon-to-be unavoidable Itawak Fest. This amazing event will take place from Friday 15 to Sunday 17 June in our headquarter, the Kawati Studios.
We paid particular attention to ensure that our tremendous hunger for rock will be satisfied. For the thirst we can count on the bar!
Bands will play on two stages. As side dishes, you will be pleased to find vegetarian gastronomy, distros, merch, a minigolf, all in a heartwarming DIY atmosphere.
Advance tickets are already available : 3 days, 20€
For more informations, go to www.itawak.com/itawakfest
Everything else relies on you!