ITAWAK FEST 2019
ITAWAK FEST : ROUND 2
[FRA] Après un premier essai réussi au Port du Rhin, Itawak Records remet le couvert et organise, du 13 au 15 juin, la seconde édition de l'Itawak Fest au Molodoï à Strasbourg.
Pour cette seconde édition, le public est convié à la rencontre de la scène underground internationale et locale. Au programme, une vingtaine de groupes – allant du post-rock aux musiques les plus extrêmes-, deux scènes, un bar, des frites, de la nourriture végétarienne, des animations diverses dans une ambiance festive et conviviale.
Les billets sont d'ores et déjà en prévente sur le site d'Itawak (https://itawak.com/itawakfest/) au tarif de 20€ les 3 jours et de 8€ la journée.
✘ ✘ ✘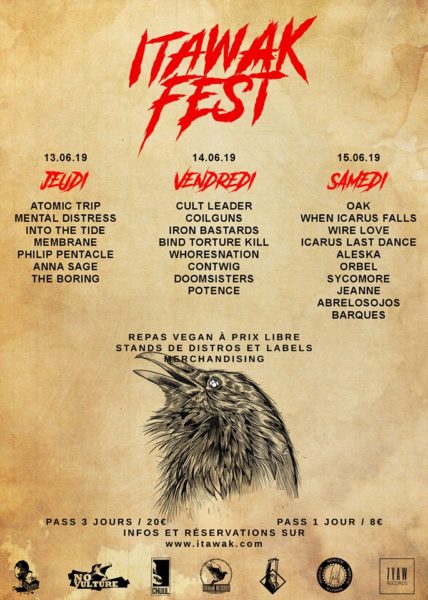 [DEU] Nach einem erfolgreichen ersten Versuch, organisiert Itawak Records vom 13 zum 15 Juni die zweite Edition des Itawak Fest im Molodoï in Strasburg.
Für dieses zweite Event laden wir das Publikum zur Begegnung der lokalen und internationalen Underground Szene ein. Im Programm: 20 Bands von Post Rock bis zur extremsten Musik, zwei Stages, eine Bar, Pommes und Vegie Food, diverse Veranstaltungen in eine festliche Stimmung.
Karten sind schon im Vorverkauf auf Itawak's homepage (https://itawak.com/itawakfest/), 3 Tage Pass für 20€, oder pro Tag 8€.
✘ ✘ ✘
[ENG] After a successful first attempt at the Rhine harbor area, Itawak Records is back in business. The second edition of the Itawak Fest is settled this year at the Molodoï venue in Strasbourg from 13 to 15 June.
For this second edition, the audience is invited to meet the international and local underground scene. About twenty groups are scheduled – from post-rock to the most extreme music – two stages, a bar, fries, vegan food, various animations in a festive and convivial atmosphere.
Tickets are already on presale on Itawak's website (https://itawak.com/itawakfest/) at the price of 20€ the 3 days pass and 8€ per single day.