Chuul LiveAsso et Itawak vous proposent :
++ Cult of Occult – Occult doom / blackened sludge – Lyon
https://cultofoccult.bandcamp.com/
++ GRIM VAN DOOM – Sludge doom – Wuppertal
https://grimvandoom.bandcamp.com/
Vendredi 21 avril aux Kawati Studios pour 20h / PAF : 5€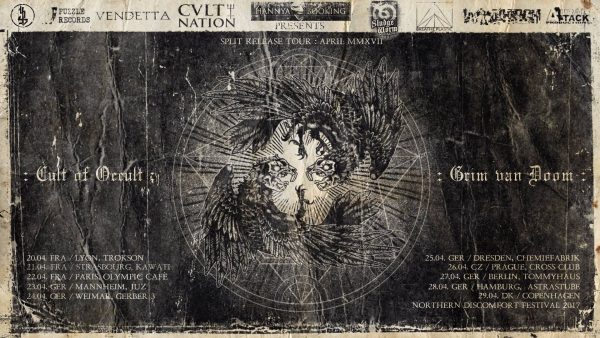 Vous vous souvenez en 2014 lorsque les 10 plaies d'Egypte se sont abattues sur le Molodoï ? On ne remerciera jamais assez Cult of Occult.
Pour ceux qui ont loupés ce moment Nutella, Cult of Occult et Grim Van Doom partent en tournée ensemble en europe pour présenter leur split album et seront de passage à Strasbourg : l'Apocalypse est prévu pour ce 21 avril à Strasbourg. Tremblez pauvres fous !

Cult of Occult / Grim Van Doom – Split Album :
https://vendetta-records.bandcamp.com/album/cult-of-occult-grim-van-doom-split-lp
Plump, earthy bass tones, ominous, cymbal-heavy drumming, hellishly guttural vocals and filthy guitar distortion are set to a tempo that makes Sleep look like a grindcore band. All of these elements remain constant throughout the twenty-two minutes of "Black Sea", giving the song an endless, trance-inducing feel. Grim Van Doom's side of the album has very little fat on them; they are all lean, brutish works of harsh sludge that churn your stomach and make the marrow of your bones tremble.