YURODIVY
Post-hardcore – STRASBOURG
Yurodivy : Personnage excentrique à l'écart des conventions sociales. Sa folie est ambiguë, et pourrait être réelle ou simulée. Il est en mesure de dire les vérités que d'autres ne peuvent dire, car il n'est soumis à l'autorité et au jugement de personne. Chacun peut être le fou de quelqu'un.
Yurodivy : Eccentric figure who is outside conventional society. His madness is ambiguous, and can be real or simulated. He is able to say truths which others cannot, as a figure not subject to earthly control or judgment. Everybody can be somebody's fool.
For fans of : Birds In Row, Dillinger Escape Plan, The Prestige, Code Orange
---
---
[THE HIGHER YOU CLIMB
2021 (ITAWAK028)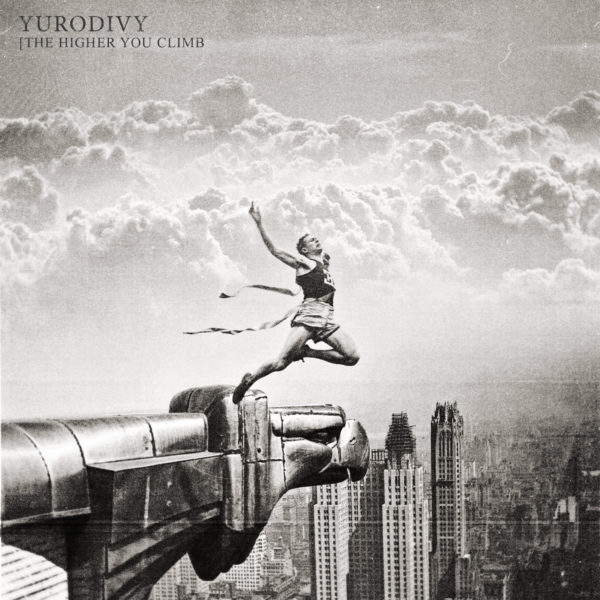 Ont participé à ce projet Jérémy, Julien, David, Geoffroy, Matthieu, Nils, Paul, Théo, Pierre, ainsi que Thomas Binetruy (Zouam Records), Benjamin Moreau (Kawati Studios), Sam Fromlr (System-D Prod), Magnus Lindberg (Redmount Studios).
---
TELL ME WHEN THE PARTY'S OVER
2020 (ITAWAK020)
Please welcome the second chapter of their odyssey ! This new LP is bringing post-hardcore further than ever before…
With the help of : Crapoulet Records, Urgence Disk Records, Dingleberry Records And Distribution, Plug In The Gear, Fresh Outbreak Records, Zegema Beach Records
A CD version was also released by Seven Years A Weak Records
It's amazing to hear the band rarely following the same formula with each passing song, taking the time to find ways to distinguish each one from one another, perfectly encapsulating everything that makes screamo, chaotic hardcore and atmospheric post hardcore mixture such a rewarding and engrossing listen. (idiotheq.com)
Il y a quelque chose de l'ordre de la simplicité et de la brutalité froide sur Tell Me When The Party's Over, avec pourtant en contre point des moments d'une délicatesse et d'un raffinement absolu ; tout ça emballé dans un flot et un arsenal technique des plus chiadés.
(coreandco.fr)
All songs by YURODIVY
Recorded and mixed by Sam System-D Prod At Kawati Studio
Produced and arranged by Benjamin Moreau
Mastered by Arco Trauma.
---
WHERE THE DOGS WILL NEVER SLEEP
2018 (ITAWAK012)
« La particularité du projet est que nous avons commencé l'enregistrement le 21 août à 9h et que nous avons posté les cassettes à ceux qui les avaient pré-commandées dès le 22 août à 9h. Soit un créneau de 24h pour enregistrer, mixer, masteriser, créer l'artwork, éditer le nombre de cassettes nécessaires et les expédier aux gens qui ont décidé de nous soutenir.
Et quoi de mieux pour mener ce projet à bien que de nous entourer des gens qui nous soutiennent depuis le début : la prise de son et le mix ont été réalisés aux Kawati Studios par Benjamin Moreau, le mastering par Arco Trauma, l'artwork a été conçu le jour même par Valérie Etterlen, et bien sûr l'équipe Itawak Records était présente pour s'occuper de la reproduction et de l'envoi des cassettes.
Nous les remercions pour cette journée qui s'annonçait épique, et qui a largement tenu ses promesses. »
Seules les cassettes pré-commandées ont été éditées. Aucun autre exemplaire n'est disponible.
---
APHOS
2017 (ITAWAKOO6)
Reviews :
English : metaltrenches, wonderboxmetal, rockmuzine, musicallyfresh
French : shootmeagain, scoreav, idioteq, french-metal
German : silence-magazin
Italian : letteredallunderground
Spanish : necromance
Croatian : terapija
Like a metaphoric tale, the album trace the story of a fish which decided to leave the cold and dark sea bed to swallow the sun and bring it back into the abyss.
The title "Children Of The Sun" captures the division of a people that is facing a system settled by former generations that is now beyond their control. In this tale, it is the moment when the sun, brought on the seafloor as something positive, is dividing everyone. Using material from the Battleship Potemkin movie and linking it with the current state of our society seemed for us a good way to represent the analogy of the lyrics of this song, and, by extension, of the whole disc.
(idiotheq.com)
"In The Violence Of The Ashes" is the 8th chapter of Aphos. It is the key moment in the story told in this album. It illustrates our heroin's journey towards the earth center, a concious fall towards hell, this moment when it becomes necessary to touch the bottom to become aware of real problems.
(metalunderground.com)
All songs by YURODIVY
Artwork by Valérie Etterlen
Layout by Jérémy Boulidard
Recorded by Benjamin Moreau at Kawati Studios, Strasbourg
Mastered by Arco Trauma
Additional voice by Salomé Fritsch
---
---
PAST SHOWS
14.12.2019 – TOURS (FR) – Canadian Café + Potence / Circles / Løvve
13.12.2019 – LYON (FR) – Les Capucins + Potence / Hecatombe
12.12.2019 – GENEVE (CH) – Le Crache Papier + Potence
11.12.2020 – LAUSANE (CH) – Espace Autogéré + Potence
10.12.2020 – BIENNE (CH) – Bahnöfli + Potence
06.10.2019 – GENEVE (CH) – DRONE TO THE BONE FEST – Le Rez Usine + Anna Sage / Agonir / Satan
05.10.2019 – NICE (FR) – Altherax + Anna Sage
04.10.2019 – MILAN (IT) – Villa Vegan + Anna Sage / Infall / Lacittàdolente
02.10.2019 – STRASBOURG (FR) – Elastic Bar + Anna Sage / Hexis / Walk Through Fire
29.09.2019 – BESANÇON (FR) – Secret party + Anna Sage / No Vale Nada
28.09.2019 – ALTKIRCH (FR) – Fall Fest – Le Domaine + Anna Sage / Herod
27.09.2019 – CLERMONT-FERRAND (FR) – Raymond Bar + Anna Sage / Erlen Meyer
24.05.2019 – PRAGUE (CZ) – Eternia Smichov + Aureole Of Ash / Fluoride / Zmar
23.05.2019 – PILZEN (CZ) – Belfast + Zmar
22.05.2019 – LEIPZIG (DE) – Atari + Aureole Of Ash / Fluoride / Zmar
02.04.2019 – STRASBOURG (Fr) – Diamant d'Or + Child Meadow / Appletop / Jeanne
19.02.2019 – STRASBOURG (Fr) – Kawati Studios + PAST / Des Astres / Colision
04.01.2019 – STRASBOURG (Fr) – Diamant d'Or + Henchman / Mental Distress
17.11.2018 – LYON (Fr) – Les Capucins + LMDA / Michel Anoïa
16.11.2018 – MARSEILLE (Fr) – La Salle Gueule + LMDA
15.11.2018 – NICE (Fr) – L'Atherax + LMDA
14.11.2018 – MILAN (It) – Villa Vegan + LMDA / Shitwire
12.11.2018 – FOSSANO (It) – Diffusione Abrasiva / Saletta LaViolenza + LMDA / Tonto / Nadsat
11.11.2018 – LE CRES (Fr) – Le Kjbi + LMDA / Deadmen / Living Under Drones
10.11.2018 – BENICARLO (Sp) – Plug in the Gear + LMDA / Gau
09.11.2018 – SARAGOSSE (Sp) – AVV Arrebato + LMDA / Altair
08.11.2018 – BILBAO (Sp) – Plaza Beltza Kulturgunea + LMDA / Fiambre
07.11.2018 – VITORIA GASTEIZ (Sp) – Aranba Taberna + LMDA
06.11.2018 – TULLE (Fr) – Le Conseil Général + LMDA
04.11.2018 – PARIS (Fr) – Le Cirque Electrique + LMDA / Mathem and Tricks / Derisoire
03.11.2018 – TRIER (Ger) – GRIND HERE GRIND NOW FEST
24.09.2018 – STRASBOURG (FR) – Diamnt d'Or + Wayste / Lingua Nada
01.09.2018 – ULM (DE) – Club Schili + Minus Youth / Krake
30.08.2018 – BERLIN (DE) – Wild Weddind + Chambers / Bayonnette
22.06.3018 – CLISSON (FR) – HELL FEST !
24.05.2018 – STRASBOURG (FR) – Kawati Studios + I Saw Daylight
21.01.2018 – KARLSRUHE (DE) – P8 + Chambers
18.12.2017 – LEIPZIG (DE) – Riesa Efau + MoYan / Yrs.
17.12.2017 – DRESDEN (DE) – B12 + MoYan
16.12.2017 – TCHAKOV (CZ) – U Vodnika  + MoYan / Acid Row
15.12.2017 – TÜBINGEN (DE) – Epplehaus + MoYan
20.10.2017 – BRUXELLES (BE) – Le Barlock + Edhochuli / MoYan / Grrzzz / Missiles Of October
18.10.2017 – STRASBOURG (FR) – Kawati Studios + Edhochuli / Noe Talbot / Mauvaise Pioche
17.10.2017 – PARIS (FR) – La Comédia Michelet  + Edhochuli / Chafoin
16.10.2017 – CAEN (FR) – La Pétroleuse + Edhochuli / Bugs And Rats
15.10.2017 – LA GUYONNIERE (FR) – Nineteen Café + Edhochuli
14.10.2017 – BORDEAUX (FR) – Les Runes + Edhochuli
13.10.2017 – PEYRELEVADE (FR) – La Croule + Edhochuli
12.10.2017 – BARCELONA (ES)  + Edhochuli / Don Vito / La Confraternita Del Purgatorio
11.10.2017 – VALENCIA (ES) – Magazine Club + Edhochuli
08.10.2017 – TOULOUSE (FR) – L'Usine à Musique + Edhochuli / Skull Soda
07.10.2017 – LA FARE LES OLIVIERS (FR) – L'Humus + Edhochuli / Michel Anoia / Yarostan
06.10/2017 – TOULON (FR) – Le Port Des Créateurs + Edhochuli / Taiwan Balek / Bon Rencontre
05.10.2017 – SAINTE-CROIX (FR) – House Show
01.07.2017 – STRASBOURG (FR) – Kawati Studios + Birds In Row / Mercy Ties
26.06.2017 – KARLSRUHE (DE) – P8 + YC-CY
10.03.2017 – STRASBOURG (FR) – Diamant d'Or – Release APHOS LP + Ducktape / Powder / Geraniüm / Agonir / Marechal
18.02.2017 – PRAHA (CZ) – Cafe Napul Cesti
17.02.2017 – LEIPZIG (DE) – Atari Club + Lügen / Deutsche Laichen
16.02.2017 – BERLIN (DE) – Scherrer8 + COlored Moth / Noj
11.02.2017 – WUPPERTAL (DE) – AZ + Cranial / Kavrila
09.02.2017 – BRUSSELS (BE) – Magasin4 + Deluge / Mont-Doré
28.01.2017 – RUPT-SUR-MOSELLE (FR) – Crustygrange
12.05.2016 – STRASBOURG (FR) – Molodoï – Release Party LMDA
08.05.2016 – KÖLN (DE) – Downward Spiral II
07.05.2016 – SAINT-OUEN (FR) – Le Picolo
06.05.2016 – SAINT-DIZIER (FR) – Nostalgian Pub
04.05.2016 – NANCY (FR) – Le 103
23.01.2016 – FREYMING MERLEBACH (FR) – TTDM + Lofofora
22.01.2016 – METZ (FR) – La Chaouée
25.10.2015 – GENEVE (CH) – L'Usine + Pigs / Plevre / Nesseria / Sofy Major / Euglena / Wardhill
24.10.2015 – MARSEILLE (FR) – La Salle Gueule
23.10.2015 – BENICARLO (ES) – Lion Cafe + Pneu / Don Vito
22.10.2015 – BORDEAUX (FR) – L'Antidote
21.10.2015 – LE MANS (FR)
19.10.2015 – NANTES (FR) – La Rumeur + Carne
18.10.2015 – COURTRAI (BE) – The Pit's
17.10.2015 – BRUSSELS (BE) – Rock Classic
08.10.2015 – STRASBOURG (FR) – Mudd Club + Ed Warner
14.09.2015 – GIESSEN (DE) – AK44 + Ansa
13.09.2015 – LEIPZIG (DE) – Plaque + Mutiny On The Bounty
12.09.2015 – BERLIN (DE) – Scherrer 8 + Ansa
11.09.2015 – MAGDEBURG (DE)
06.09.2015 – STRASBOURG (FR) – Kawati Studios + The Great Divide / Overreact
14.06.2015 – STRASBOURG (FR) – Kawati Studios (RELEASE PARTY) / La Dispute / Two Inch Astronaut
06.04.2015 – STRASBOURG (FR) – Kawati Studios + Joliette / Zaga Zaga
28.02.2015 – PRAHA (CZ) – Café Na půl cesty
27.02.2015 – BERLIN (DE) – Scherer 8
04.02.2015 – LUXEMBOURG (LU) – Café Rocas + Ash Is A Robot
03.02.2015 – STRASBOURG (FR) – Mudd Club + Ash Is A Robot
29.11.2014 – COLMAR (FR) – Grillen + Lofofora
26.11.2014 – STRASBOURG (FR) – Mudd Club + Antares
21.11.2014 – MULHOUSE (FR) – AMR
12.11.2014 – STRASBOURG (FR) – Kawati Studios + Sofy Major
24.10.2014 – STRASBOURG (FR) – Kawati Studios + One Thousand Directions / The Attendants
23.10.2014 – MULHOUSE (FR) – Noumatrouff + Birds In Row / As We Draw / Past / More Dangerous Than A Thousand Rioters
16.10.2014 – STRASBOURG (FR) – LEMON FEST + Kruger / Coilguns / The Tidal Sleep/ Oak / Housebound
05.09.2014 – ALTKIRCH (FR) – Sound'Go Festival
12.07.2014 – NEUVE EGLISE (FR) – FESTIVAL DECIBULLES
18.06.2014 – STRASBOURG (FR) – La Laiterie + Crossfaith
30.05.2014 – BARTENHEIM (FR) – Caf-Conc Des 3 Frontières
17.05.2014 – STRASBOURG (FR) Kawati Studios
18.04.2014 – STRASBOURG (FR) Molodoï + Sna-Fu + Spark Gap
08.03.2014 – MULHOUSE (FR) – Noumatrouff
01.03.2014 – SAINT-MARTIN (FR) – Café Freppel, Tremplin FESTIVAL DECIBULLES